Now a days there are varieties of Windows Phone devices available in the Market waiting for you to get them, so here we've taken the time to go through all the Windows Phone devices available in the market to pick out the best ones around so that you can choose the best device for you. So, below we are listing the top 5 Windows Phones in the world right now.
Nokia Lumia 1520
The Idealist
Price – INR 42800 ( $715)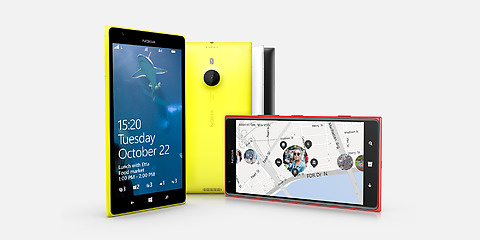 Nokia Lumia 1520 is undoubtedly the best Windows phone device in the market, it provides you ultimate experience of windows phone which is never felt before, Lumia 1520 is a 6-inch flagship Device with all of the trimmings we've been waiting to see on a Windows Phone device for quite some times  now. We can't be more impressed at a Phablet this much, apart from this it can be easily said that it is one of the best Phablet in the market, contains the appropriate combination of hardwares and softwares which are ideal to make a device perform and the best part of the device is yet to come, the spice of Lumia series, It got one of the best camera a phone or a phablet can get, only second to Lumia 1020, apart from all this, it got a stylish huge screen and a quad core processor and with addition to all these, there is quiet an improvement in the software which helps in proper functioning of the device
Key specifications
6.0", 1920×1080 IPS LCD (368 ppi)
Qualcomm Snapdragon 800 SoC
2.3 GHz quad-core CPU, Adreno 330 GPU, 2GB RAM
32 GB internal storage, microSD card slot
20 MP camera, 1/2.5" sensor, f/2.4 lens, 1080p30 video
3,400 mAh, 12.9 Wh battery
LTE, Wi-Fi a/b/g/n/ac, Bluetooth 4.0, NFC
Windows Phone 8 Update 3
209 grams, 8.7mm thick
Nokia Lumia 1020
The sharp Snapper
Price – INR 40000 ($660)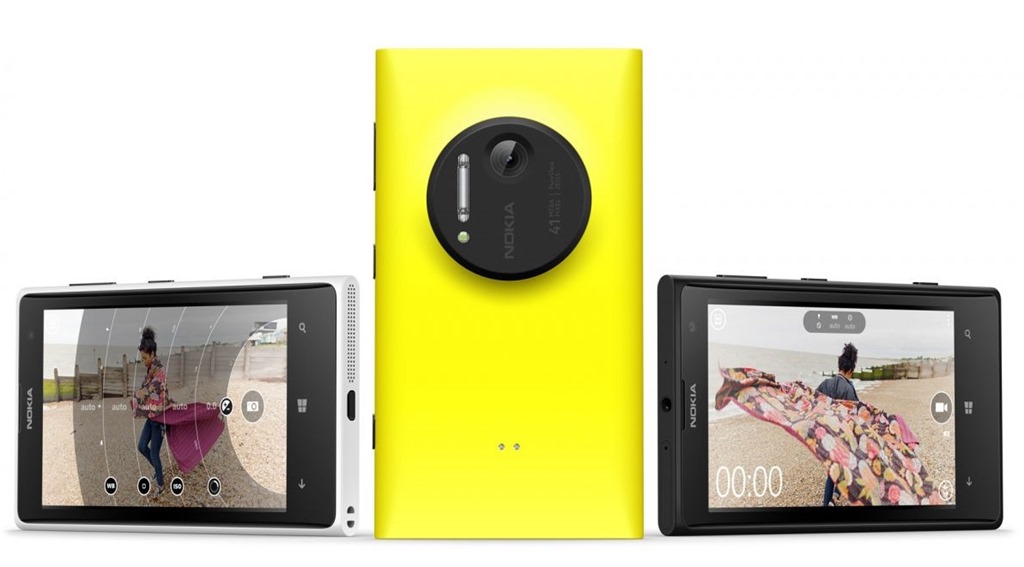 Lumia 1020 is a pure spice of Nokia series, the flagship device from Nokia and bearer of not one of the best, but the best Camera a Phone can get, on its back, 41 MP Pureview camera 2/3-inch BSI sensor with optical image stabilization (OIS), and a high resolution f/2.2 all-a spherical 1-group Carl Zeiss lens with bunch of photography Apps which captures extremely high-resolution images with fine detail, and puts creative controls at your fingertips and needless to mention about its Low light imaging you will love it apart from camera it got a stylish and slip design with a good battery life. On the face of the device, you'll find a 4.5-inch 1280 x 720 touch screen display. The left edge of the device, if you're facing the screen, is clean and free of any buttons or ports. Our only major concern is related to the fact that it does not have a microsd slot for expanding the disk space. All in all we came to a conclusion that the device it a photographer delight but casual users should stick to cheaper camera phones.
Key specifications
4.5 Inch PureMotion HD+ Display
– 1.5GHz Qualcomm Dual Core Processor
– 2GB RAM
– 32 GB On-Board Storage
– 41 MP PureView Camera With Optical Image Stabilization
– 1.2 MP Front Facing Camera
– Xenon Flash
– LED For Video Recording
– Nokia Pro Camera
– 2000 MAh Battery

 
Nokia Lumia 925
The Metal Charm
Price – INR 28000 ($460)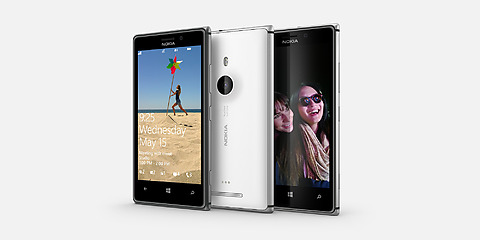 When it comes to Windows phone there is not a real competition for Lumia series and Nokia has proved it again and again that it is standalone Windows Phone maker and is competing against itself only, Nokia 925 is a shear token of the Nokia spirit of improvement Nokia Lumia 925 Smartphone with 4.50-inch 768×1280 display powered by 1.5GHz processor alongside 1GB RAM and 8.7-megapixel rear camera. It has some premium built quality and has a shiny aluminum band running around the sides. That gives it a premium edge which is sorely lacking in other Nokia handsets and it looks good for it and has got the same sharply rectangular shape that the Nokia Lumia 920 has, but where that was all brightly colored plastic, the Nokia Lumia 925 has a shiny aluminum band running around the sides which look quite a charm. In spite of incorporating Aluminum It is quiet a lightweight device as compare to its predecessors.  Its camera takes great shots, especially in low light conditions, and the LTE Smartphone comes in at an affordable price and in addition to all these it has multiple connectivity options including 3G, Wi-Fi, Mobile Hotspot, GPS, USB, GPRS, Bluetooth etc and is powered by a 2000 mAh Battery which gives talk time of up to 13 hours for 3G and 18.3 hours for 2G.
Key Specification
4.5 inches AMOLED display
Windows Phone v8 OS
1.5GHz Dual Core Processor, 1GB RAM
16GB of internal memory
8.7 MP rear camera, 1.2 MP front camera with
Carl Zeiss optics, optical image stabilization, autofocus, dual-LED flash
3G, Wi-Fi, Mobile Hotspot, GPS, USB, GPRS connectivity
2000 mAh Battery
Nokia Lumia 928
The Successor
Price – INR 32000 ( $525)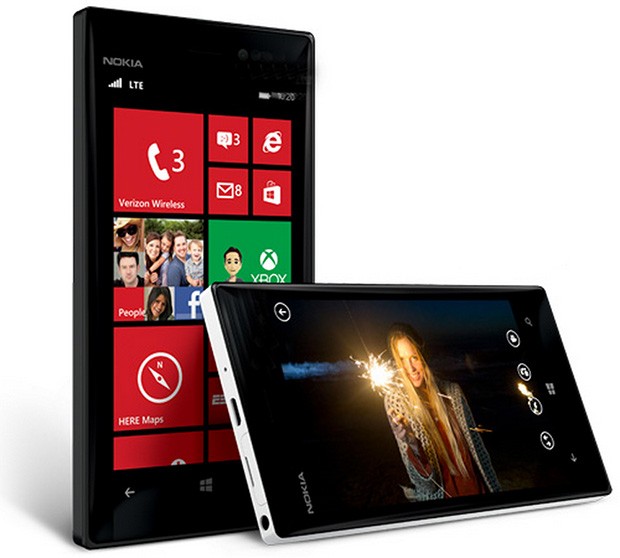 Yet another Lumia in the series, but it deserve to be here, Lumia 928 is one of the finest Lumia which carries one of the finest Pureview camera and some great ability of low-light photography, apart from this, the device got wireless charging capabilities, good call quality and a brighter and finer super Amoled with effective pixels-per-inch measures out to 332 ppi, which makes its 4.5 inch screen quiet sharp. The 1.5GHz dual-core Krait Snapdragon S4 and 1 GB of Ram are put to good use in the 928 and the user interface is extremely quick, exhibiting instant feedback to a user's actions. It comes with exclusive Nokia goodies like HERE Drive+ worldwide SatNav, Nokia Music, Transit, City Lens and more. Lumia 928 is the true successor of Lumia 920 and you should go for it is you a fan of windows Phone and Photography as it has got some awesome low-light snapping ability which will make your night out as memorable as they deserve to be.
Key specifications
4.5-inch OLED Capacitive touchscreen Display
Windows Phone 8 OS
1.5GHz dual core processor, 1GB RAM
8.7 MP Rear camera, 1.2MP Front Camera with
Digital Zoom with Auto-Focus and Xenon LED Flash
internal memory, 32GB
3G, Bluetooth, Wi-Fi, GPRS/EDGE, GPS with A-GPS
2000mAh Battery
Nokia Lumia 1320
The Wallet Friendly
Price – INR 22,600 ($360)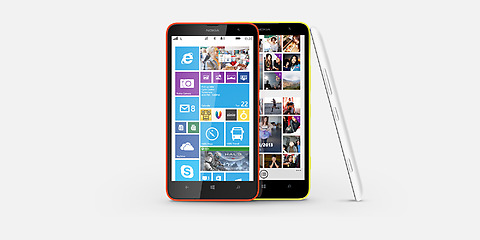 Another Nokia Lumia, now we can just say this "Why Nokia, why do you make such Awesome Windows Phone". Lumia 1320 is a wallet friendly Phablet Lauched by Nokia for the user who didn't want to spent huge bucks on high end devices and wants to enjoy same features as them. It features a 6-inch 720×1280 display with a dual core Snapdragon CPU, 1 GB of RAM, microSD expansion, 3400 mAh battery and a 5 MP camera and also gives you option for wireless charging. Lumia 1320 may be seen as Nokia trump card for penetrating the newly developed Phablet market and mark the home coming of warriors.
 6-inch HD IPS ClearBlack display
Windows Phone 8
Ram 1 GB
1.7 GHz Dual Core Processor, Adreno 305 GPU, 1GB RAM
5MP Camera, with autofocus, LED flash and  features eco-tagging, touch focus
 VGA front camera
8GB inbuilt storage, expandable
3G, Wi-Fi, GPS, Bluetooth, USB
3400 mAH battery
Don't forget to like us on facebook and follow us on twitter to stay updated