Google confirms new Nexus 7 and Android 4.3 release
Google has officially unveiled the hugely anticipated follow-up to 2012's Nexus 7 alongside Android Jelly Bean 4.3, adding in a better display, high-end specs, and optional support for LTE.
The new Nexus 7 will available to buy from Google Play on July 30 in the US, with a UK release revealed as September 13 according to retailer PC World who is retailing the 16GB Wi-Fi only model for £199.99 and the 32GB version for £239.99.
Dubbed the Nexus 7 2 ahead of launch, Google has now confirmed the slate will carry the same namesake as its predecessor, so from here on out we'll refer to it by its given name: Nexus 7.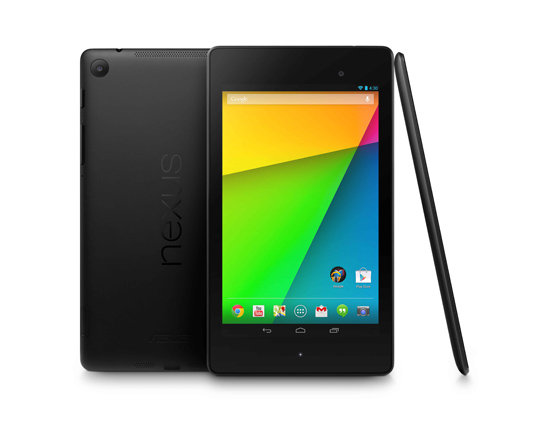 Running Android 4.3, the updated Nexus 7 features a 7-inch 1200×1920 pixel display with a truly pin-sharp pixel density of 323ppi. It will be powered by a 1.5GHz Qualcomm Snapdragon Pro chipset and also features 2GB of RAM and storage options of 16GB & 32GB. Google has also added in two cameras: a 5-megapixel setup on the back and a 1.2-megapixel on the front for selfies and video calling.
The Nexus 7 has no physical navigation keys and you'll find the volume rocker and power key located on the right hand side of the device. The bezel is still pretty thick although Asus has vastly improved the overall design and finish of the Nexus 7, adding an element of gloss that just wasn't present on its predecessor.
Nexus 7 Specs
OS: Android 4.3 Jelly Bean operating system
Processor: 1.5GHz Snapdragon S4 Pro 8064 with Adreno 320 GPU
Wi-Fi: 802.11a/b/g/n wireless LAN
RAM: 2GB DDR3LM memory
Display: 7-inch (1920 x 1200 resolution) LCD 10-finger capacitive IPS display with 300 cd/m² brightness, 178-degres viewing angles, and anti-fingerprint technology to minimise smudging
Storage: 16GB on-board storage
Cameras: 5.0-megapixel rear-facing camera & 1.2-megapixel front-facing setup
Connections: Micro USB 2.0 port with SlimPort + Bluetooth 4.0 + NFC
Weight: 317.5 grams
Thickness: 7.62mm
Sensors: G-sensor, ambient light, Ecompass, gyroscope and proximity.
Android 4.3: New Features Detailed
Below are all the new additions you can expect to see inside Android 4.3. Most are back-end tweaks but once developers get hold of them the results on the front-end inside apps and games should be astounding.
OpenGL ES 3.0 — Game developers can now take advantage of OpenGL ES 3.0 and EGL extensions as standard features of Android, with access from either framework or native APIs.
Bluetooth Smart — Now your apps can communicate with the many types of low-power Bluetooth Smart devices and sensors available today, to provide new features for fitness, medical, location, proximity, and more.
Restricted profiles — Tablet owners can create restricted profiles to limit access to apps, for family, friends, kiosks, and more. Your app can offer various types of restrictions to let tablet owners control its capabilities in each profile.
New media capabilities — A modular DRM framework enables media application developers to more easily integrate DRM into their own streaming protocols such as MPEG DASH. Apps can also access a built-in VP8 encoder from framework or native APIs for high-quality video capture.
Notification access — Your apps can now access and interact with the stream of status bar notifications as they are posted. You can display them in any way you want, including routing them to nearby Bluetooth devices, and you can update and dismiss notifications as needed.
Improved profiling tools — New tags in the Systrace tool and on-screen GPU profiling give you new ways to build great performance into your app.
New Nexus 7 was last spotted on cart2india for INR 21,990. click here to check your luck if it is still available or have you missed it.