Samsung has officially launched it's first Android flip phone Samsung Galaxy Golden. The Samsung Galaxy Golden is a premium flip phone with dual slim Super AMOLED displays measuring 3.7 inches with resolution of 800 x 400 pixels. The outer display can be used to quickly make and receive calls and opening the phone reveals the inner display along with the huge spacious keypad. The device boasts a 1.7 GHz dual core processor coupled with 1.5 GB of RAM and 16 GB of internal storage.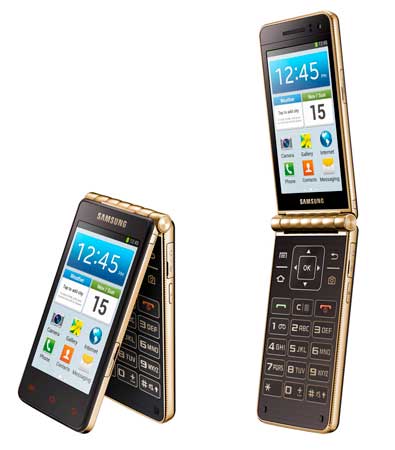 The Samsung Galaxy Golden has a black casing with an elegant golden finish which adds to the premium look. The device is equipped with an 8 MP rear facing camera besides a front facing 1.9 MP camera. The phone comes with the Hidden Receiver feature that allows users to take calls without opening the phone and provides high quality sound in noisy areas. The device is priced at Rs. 49,900. (around 812 USD). Well, That makes this smartphone costlier than the recently launched Samsung galaxy Note 3.
Galaxy Golden is available is available for pre-order from online retailer Flipkart. The Galaxy Golden (GT-I9230) has a similar specifications as the Korean version including a dual 3.7 inch (800 x 480 pixels) Super AMOLED displays, 1.7 GHz dual-core Snapdragon processor and Android 4.2 (Jelly Bean). It has a 8-megapixel rear camera with LED flash and a 1.9-megapixel camera. However this lacks 4G support present in the Korean version of the Galaxy Golden (SHV-E400) .
Specs of the Samsung Galaxy Golden:
3.7 inch dual AMOLED display
800 x 400 pixels resolution
8 MO Primary Camera
1.9 MP Front Camera
Android 4.2 jelly Bean
1.7 GHz dual core processor
1.5 GB RAM
16 GB internal memory
1820 mAh battery
Dont Forget to like us on facebook and follow us on twitter, to stay updated