They say "Good things come to those who wait" and this might just hold true for the users of Sony Xperia M as Vodafone Australia has put on it's blog a chart which shows us the software update statuses for many devices including Xperia M.
Well as far the users of Xperia M are concerned, we already know that for how long they have been waiting for a software update for their device which runs on Android 4.1.2 out of the box and to add salt to their injuries, Sony later launched the dual sim version of the Sony Xperia M which runs 4.2.2 out of the box. So the user demanding an update from sony is quite understandable.
And now it seems a new android version for Xperia M will finally be able to see the light of the day as Vodafone Australia has a testing scheduled in order to test the Android 4.3 Jelly Bean for Xperia M.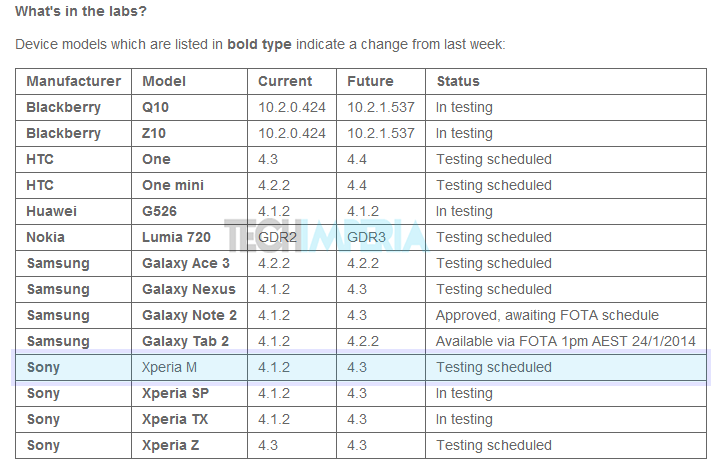 Though, Vodafone Australia take no claims for this update information to be valid outside Australia but as we have seen in the past that once an update rolls out in one region, it gradually gets rolled out in other parts of the world too.
In the same chart it is shown that Vodafone also tested a similar update for Xperia SP and Xperia TX, but both tests failed and they are now awaiting for a new software from Sony. So, we can just hope that all goes well with testing for Xperia M.
As Sony promised earlier this month that Android 4.3 Jelly Bean updates will be available for various Xperia smartphones beginning late January / early February, but we're still left wondering when the company will be releasing them.
We will keep you updated as we hear more on the topic.
Don't forget to like us on facebook and follow us on twitter to stay updated