Sony has launched its latest CP-V3 USB portable charger in India at Rs 1,590. It has a capacity of 2,800 mAh and output of 1.5A. The device comes in five colors.
The Sony CP-V3 weighs 84 grams and comes with dimensions 99×38.8x19mm.. Based on Lithium-ion polymer technology, it is claimed to retain more than 90 per cent of its capacity at 1,000 charges. Users can charge the CP-V3 USB-based power bank via the USB port on a computer or an AC adaptor as it comes with a micro-USB Cable to charge mobile devices such as Android, Windows Phone and Blackberry smartphones.. The CP-V3 USB Portable Charger is ready-to-use straight out of the Box.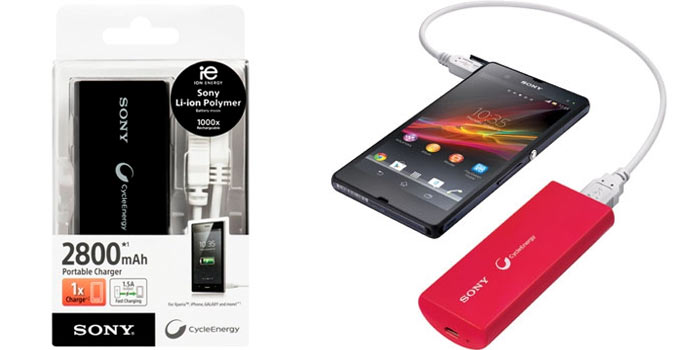 The CP-V3 is definitely quite a stylish device which comes drenched in 5 vibrant shades of black, blue, red, purple and white. One of the main advantages is that it not only works with the Xperia smartphones, but also plays well with most of the other mobile devices too. Moreover, this charger will not disappoint you, even if, you own any other Sony gadget belonging to the Cyber-shot, HandyCam or Walkman lineups.