Now Google is trying to spice up Android Play store as it has just added a new section to its menu "people" it doesn't have anything to do with apps downloading or the way you update apps, but it just add little bit of social interest now you can see what other people are downloading by clicking on people option in your slide out menu of navigation bar, when you click on people you will get the list of what other peoples are downloading.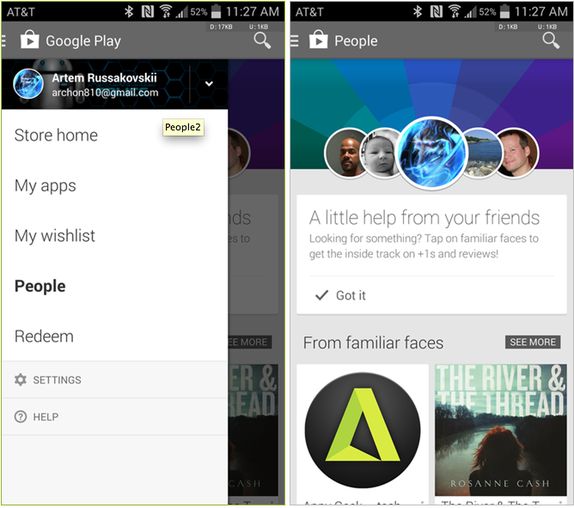 Google plus Integration with play store
This feature has been integrated to Google plus and now you can see that what people in your circle are downloading or have recommended so that you can follow them and at the bottom of the page you can see the icons of some other Google plus users that you follows and by clicking on them you can see what those users have shared recently, prior to this option a 'from similar faces' option was available on the homepage of Play store but now Google has provided separate option for this.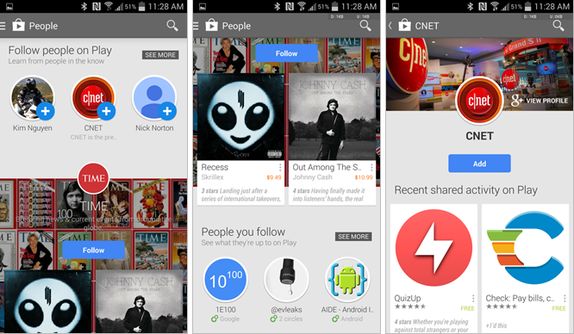 And beside all these now you can follow other people on play store view there profile and see what they are downloading, but the entire thing is only limited to apps i.e. what they are downloading now and how have they rated the apps that they have download, this feature be a good option in the context of discoverability of the apps and will help in sharing the app they are using and rating them so that other people will get benefit from their experience and download that app accordingly.
Earlier last month Google has adding Settings and Help options to the slide-out panel of the Play Store, it's like Google is really working hard to retain its position in the market.
Don't forget to like us on facebook and follow us on twitter to stay updated.