Are you fed up Fake friends on Facebook , than this might interest you, as recently an Israel-based start-up has developed an application – FakeOff, that helps to identify fake accounts on Facebook. This App claims that it will save the users from Fake friends who are mistakenly added for genuine 'New' friends in good faith but the results comes out otherwise.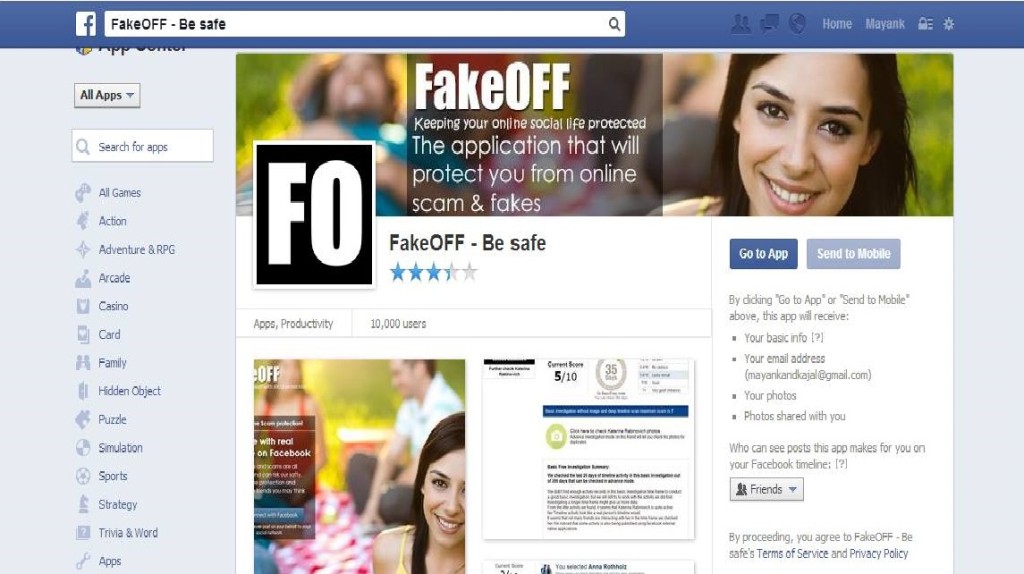 As now a day's number of fake accounts are increasing on Facebook, so it has created a sense of insecurity among the users of the social networking site, due to which this app will be a huge relief for the users who are interested in know the originality of the persons in their friendlist on Facebook. Fakeoff has been active for nearly two month now and has more than 10k user, and these numbers are expected to increase in future as the awareness about this application will increase.
"Recent statistics show that at least 10% of about 1.35 billion Facebook users are not authentic. Besides, there are millions of users who create fake identities and appear as regular users," FakeOff creator Eliran Shachar told PTI.
As per Facebook, about 143 Millions accounts on it may be false or duplicate, with a majority of them are from the markets like India and Turkey which are still developing.
Fake profiles are divided into several groups including criminals, commercial and psychological, that can risk reputations (identity theft), children (paedophiles and sexual abuse), property (home break-ins) and personal safety, he added.
"FakeOff app uses sophisticated algorithm to investigate the behavior of suspect 'friends' and rank them according to a 1-10 credibility score. It scans up to 365 days of timeline activity for every suspect Facebook friend and checks for abnormal activity," Shachar said.
The app checks timeline activity of the suspect and tries to locate abnormal activity that indicates a non-normal way of usage. It allows the user to scan the photos of the suspect to find out if it was stolen from someplace online, he added.
Also, FakeOff crosses information from all investigations and calculates results of a user based on other investigations on the same suspect, he said.