Qualcomm Inc., the world leader in smartphone microchips has released the Snapdragon Glance (Beta) application for android devices which allows users to view important notifications, see when their next appointment is scheduled, check the weather, launch relevant apps and contact people directly from the lock screen. aesthetically it might not be the best, but provides a useful set of features.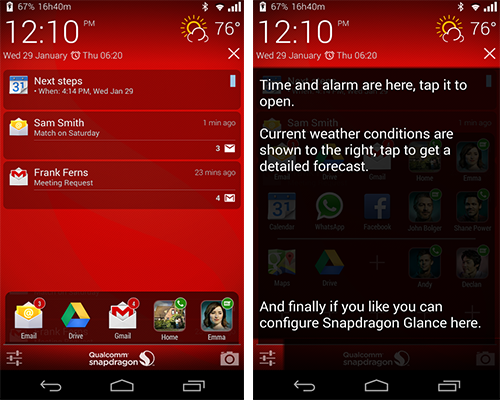 The new Snapdragon Glance app is currently in Beta version and hence supports only a handful of devices powered by snapdragon SoC.
How The App Works –
The BatteryGuru application from Qualcomm analyzes how you use your phone and claims to improve the battery life of your device. The new Glance (Beta) app from Qualcomm uses that same usage data to build an intelligent lock screen.
The Snapdragon BatteryGuru application is required for the Glance (Beta) application to work efficiently. The Glance (Beta) application is available for free on the play store and is expected to work on most devices powered by Snapdragon SoC running android 4.3 or a later version.
Snapdragon Glance (Beta) Features
View Calendar events, Missed calls, SMS, Emails and other notification once you unlock the phone
View Time, Alarm and Weather updates easily on the lock screen
Get contacts and app suggestions based on your usage patterns
Add your favorite apps to the lock screen so that you can launch them quickly
Configure or customize your glance screen easily
Download
Snapdragon BatteryGuru
Snapdragon Glance (Beta)
Don't forget to like us on facebook and follow us on twitter to stay updated