The Nokia Asha 210 will be available in Dual SIM option with Easy Swap features.
Nokia has announced a new handset under its Asha series, named as Asha 210. The Nokia Asha 210 comes with a dedicated WhatsApp button and Qwerty keyboard. It Comes in both single SIM and dual-SIM versions. Running the Series 40 , the Asha 210 Comes pre loaded with the social network apps like Twitter, Facebook and Flickr.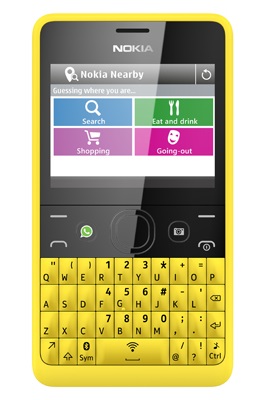 Nokia Asha 210 features a rather small 2.4-inch LCD display that features 320×240 pixel resolution natively. This display has 4:3 aspect ratio and 16-bit colour depth. The 11.8 mm thick Asha 210 has a 4 row Qwerty keyboard with tightly packed keys. The space bar key is relatively larger and also acts a shortcut to start the WiFi connectivity option for the device.
Though, The Most interesting part is the dedicated WhatsApp Button which opens the pre installed WhatsApp application. On the other side of the directional pad is the dedicated camera key to quickly capture and share images using the 2 megapixel camera at the back. Nokia Asha 210 Also Feature an FM Radio for music lovers.
By default, the Asha 210 has 32 MB RAM and features a micro SD card that can support up to 32 GB micro SD card. Other special features include the Phonebook integration that allows the user to launch WhatsApp directly from there. YouTube launcher comes pre-loaded to browse and stream videos. The Dual-SIM model features an EasySwap technology that allows switching between the SIMs without turning off the device.
Featuring a 2mm charging connecting, Asha 210 also offers a 3.5 mm audio port and micro USB port to transfer data. For faster mobile web experience, Nokia Asha 210 touts the Nokia Xpress Browser that squeezes the web pages to push customized and small sized web pages to the mobile screen.
Nokia Asha 210 is available in yellow, cyan, black, magenta and white colours. The Asha 210 will start shipping from second quarter of 2013. Expected Price of The Device is Around 72$. (USD)