First of All For Those Who Does Not Know Anything About Nexus 4, here is a Quick Breakdown of All Pros And Cons.
Pros
Quad core processor
Very big display (4.7 inches)
Extremely high pixel density screen, over 300ppi (318 ppi)
High-resolution display (768 x 1280 pixels)
High-resolution camera (8 megapixels)
Very fast processor (1500 MHz)
Lots of RAM (2048 MB RAM)
Fast mobile data support (4G)
Global phone that can work on any GSM/UMTS network in the world
NFC
HDMI connector for TV-out (via microUSB)
Cons
Lacks microSD slot for storage expansion
If You are Reading This Article, Chances are You already have Tried Many Things To Just Get Your Hands On Nexus 4 But With No Success. But Not Anymore as This Article Will Show You How To Buy LG Nexus 4 in India Without any Hassles.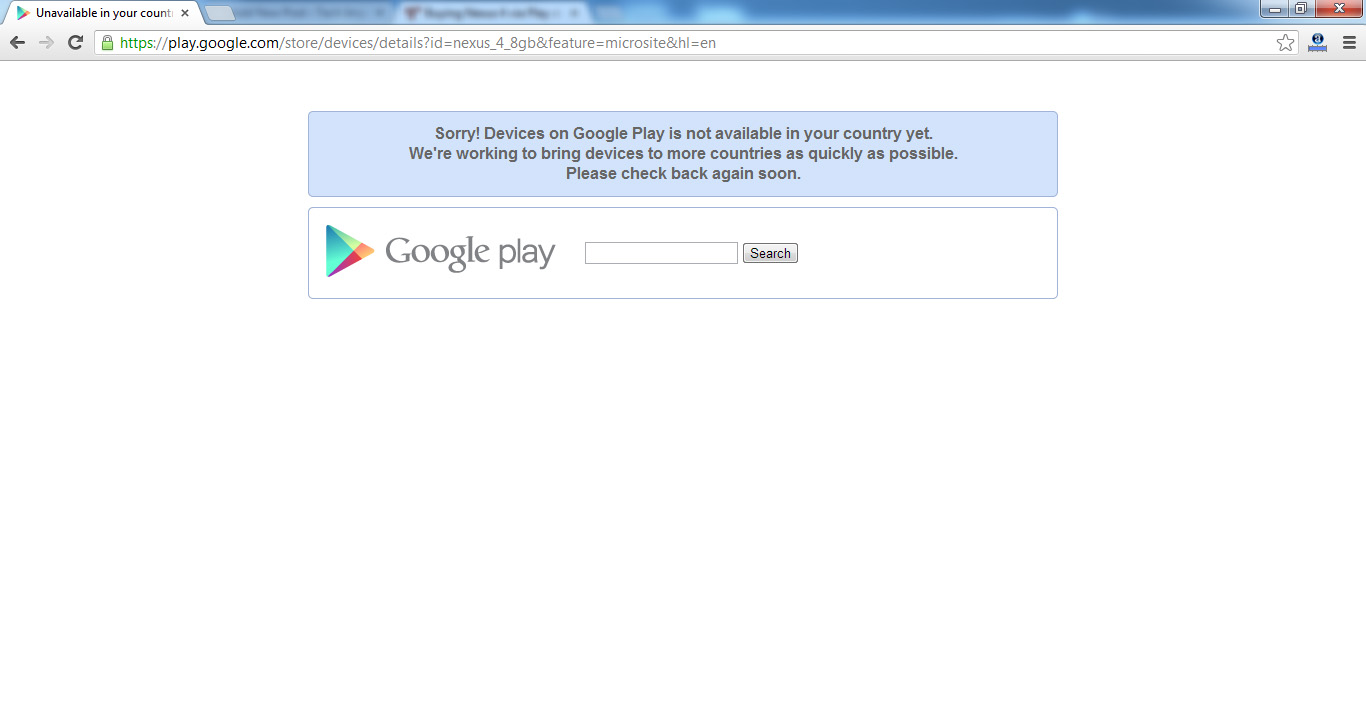 Buying a Nexus 4 via Google play store in India is an arduous task, it really is, and it will probably remain so till the time Google decides to release it in India. We doubt if a normal non-techie, non-geeky person can manage through the whole process successfully (unless you have a friend who will bring it from US / UK for you ). This article will tell You How To Order Google Nexus 4 in India Hassle Free.
Step 1 – Decide Whether You Need Google Nexus 4 8 GB or 16 GB
Assuming You have decided by now, Next You Can Click on the below Link For Your Choice of Model
Step 2 – Add To Cart
After You Have Reached The Product Page On Jadopado.com, Add the Product To Yout Cart By Clicking "Add to Cart" and then Click "Secure Checkout".
Step 3 – Provide Your Address Details and review your purchase
After Clicking "Secure Checkout" in the previous step, Now You May Have landed on a Page Asking For Your Address Details, Here You Should Enter a Valid Address Situated in India. After Providing Your Address Details, You Will Be Shown Shipping Charges For the Item You Wish To Order. Shipping is Pretty Reliable as They Use Only Forex To Ship Your Item. Shipping charges Shall be around USD 32-34.  Now You Screen Should Look Something Like This (That, ofcourse if You have Ordered 8 GB Model)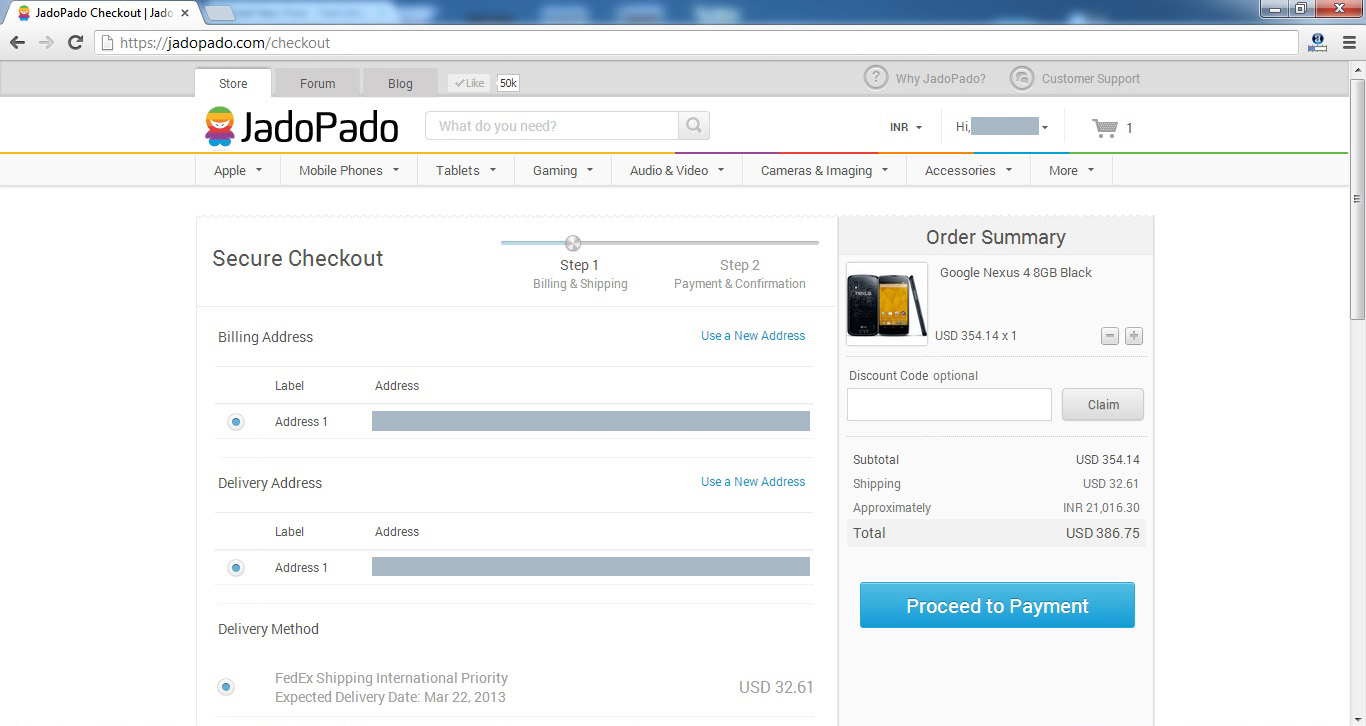 Step 4 – eh? Too Costly For You, No Problem Let's Make it Cheaper
In The Discount Code Box, Just Enter the Coupon Code – "JPLOVESYOU" and Bingo! You Have Just Made it Cheaper by USD 50. Now Your Screen Should Look Something Like This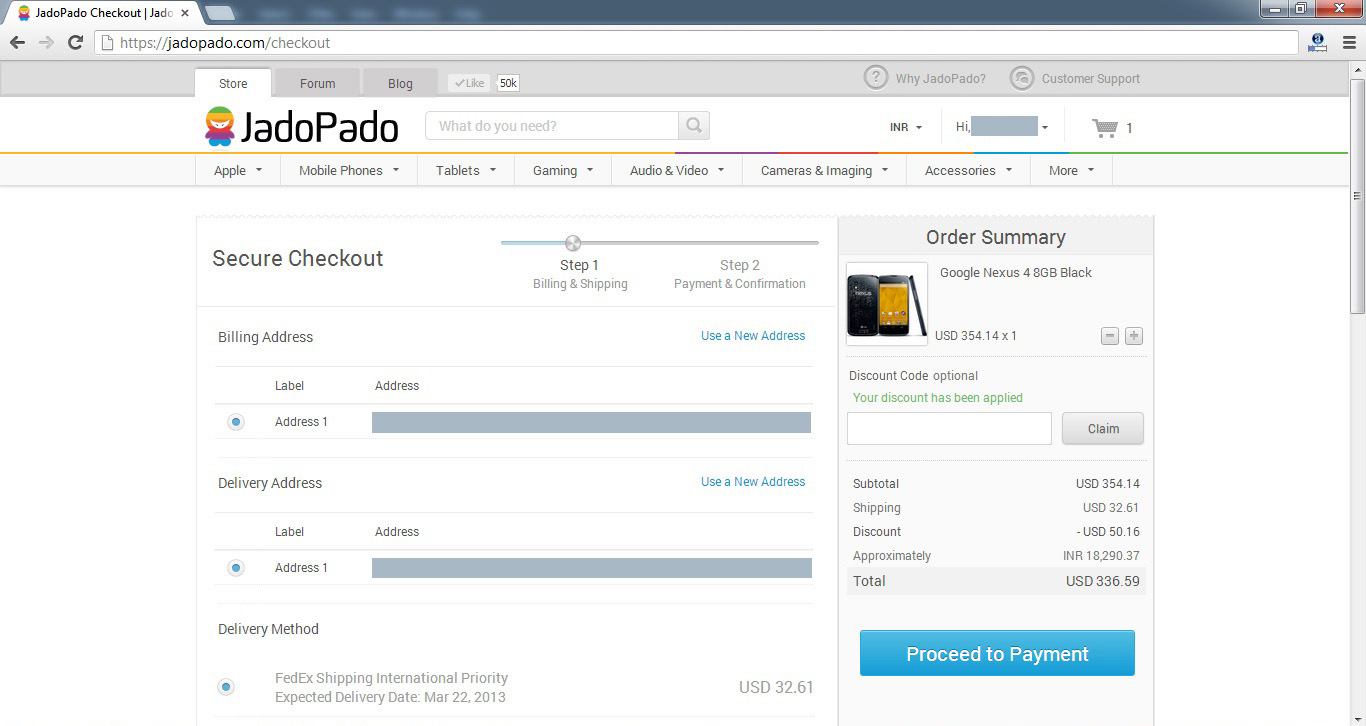 Step 5 – Estimate Your Costs
In addition to the 337 $ (approx Rs. 18,300) that you will pay to jadopado.com, We Assume That You Will Also Need To Pay Custom Duty On Your Purchase which in our opinion should not exceed Rs. 3,500.
So At Max, The Total Cost Of Getting Google Nexus 4 8 GB Should Not exceed Rs. 22,000 in any case Which We Think is Awesome!
If Total Cost Of The Item is in Your Budget, You Can Proceed To Step 6
Step 6 – Proceed to Payment
Proceed to Payment and Pay USD 337 (approx) Through any valid VISA or MASTERCARD and Complete Your Transaction.
Step 7 – Wait
Now All You Need To Do To Get Google Nexus 4 in Your Hands is To Wait. A Wait That Should Not Last More Than 10 Days in any case. Like I said, it is an arduous task buying a Nexus 4 in India, but in the end, it will be all worth it! If you have any questions, do drop us a comment and We would be more than happy to respond.
Disclaimer – We are Not Responsible For Any Extra Costs incurred By You Out Of the Result of These Purchases, You Should Do Your Own Research Before Buying.